FAR OUT, groovy en TUURLIJK JOh, waarom gooi je er niet nog een paar van die uitstekende jaren 60-expressies in? Waarom, hè? TEN EERSTE Over het "Daantjes gedrag",dopamine, et al. OOK wel ALS FRANSJO'S VERENIGDE THEORIE aangeduid.
Hoe ik De THEORIE of hoe ik het patroon vond, is niet zo relevant, aangezien de meeste van die prachtige ontdekkingen gebaseerd zijn op subjectieve waarnemingen. Toeval lijkt natuurlijk altijd een grote rol te spelen, maar zoals de boer zogenaamd al eerder heeft gezegd, toen hij blijkbaar … nou nee, laten we die kant niet opgaan, want deze keer ga ik het goed doen, wat betekent dat ik geen relevant detail weg zal laten… en irrelevante zaken zoveel mogelijk TRACHT te vemijden … Merk op dat ik hier het begrip TRACHTEN gebruik…
Dus, aangezien jullie van tevoren een eerlijke waarschuwing hebben gekregen, heb ik gelijk om aan te nemen dat jullie de kleine lettertjes op de achterkant hebben gelezen. Zeker weten, mkay? Nou, goed dan, laten we aan de slag gaan, zullen we? Maar eerst, voordat ik zelfs maar probeer het proces te beschrijven, moeten je hersenen het min of meer zelfde ontwikkelingsgang doormaken om dit soort evolutionair denken te kunnen volgen, waarbij ik overigens niet de illusie heb dat ook maar 20% van hetgeen ik op het punt sta te openbaren ook daadwerkelijk over komt, laat staan dat er ook maar iemand is die dit soort elementaire verbanden kan leggen c.q. zelf bedenken…
WAARSCHUWING
Bedenk hierbij een ding goed en dat is dat het in dezelfde klasse valt als de bekende plaatjes van de categorie "once ya see it …. ya cannot unsee them " Derhalve is het mogelijk niet onverstandig om het equivalent van de "eyebleech" welke ik zelf altijd gebruik klaar te hebben staan ; YEP JE Hebt het in een keer GOED het is natuurlijk LAPHROAIG Single Islay malt whiskey MY FAVO DRINKY
Maar, ok met deze EERLIJKE waarschuwing hebben wij aan onze wettelijike zorgplicht voldaan en dan is het nu slechts een kwestie van lezen en je de zaken voorstellen zoals ze gepresenteerd worden, ok ?
Ok klaar voor 😕
.INLEIDING
Ik moet je het grapje vertellen dat je al dan niet eerder hebt gehoord. Hoe dan ook, ik ben er vrij zeker van dat de persoon van wie ik het als eerste hoorde, mijn enige ZOON ZOU ZIJN, Kevin, een Nederlandse MARINE waar ik dol op ben zoals elke vader zou zijn, want hij is zo'n formidabele kerel, maar ik dwaal af, dus ik verontschuldig me als jij het toch niet was, Kev. OK, hier gaat ie dan: EN om duidelijk te zijn, grappen zouden eigenlijk het beste onvertaald verteld worden, maar aan de andere kant zouden veel ervan ons niet heen en weer bereiken, ja, dus daarom heb ik die goede oude Google gevraagd om dat oude probleem aan te pakken om het maar zo te zeggen…
Een boer komt 's ochtends in het kippenhok. Ligt dat hok vol met gekleurde eieren. Wat gaan we nou beleven, denkt de boer, het is toch nog lang geen Pasen? Hij besluit die avond bij het kippenhok te gaan staan waken. Tegen zonsondergang ziet hij een gekleurd stipje aankomen in de verte. Het stipje komt naderbij. Het blijkt een papegaai te zijn, en die zingt: "Ik ben Daan, en ik kan neuken als een haan, ik ben Daan, en iK ik kan neuken als een haan…" De papegaai loopt die boer voorbij, gaat het kippenhok in en geeft alle kippen een beurt. De volgende dag leggen de kippen weer gekleurde eieren. Daar zal ik een stokje voor steken, denkt de boer. Hij spant een elektriciteitsdraad voor het kippenhok en zet er 220 volt op. Als de boer de volgende ochtend in het kippenhok gaat kijken, liggen er toch weer gekleurde eieren, en ze zijn nog groter dan de dagen ervoor ook. De boer besluit om 's avonds weer op wacht te gaan staan. En ja hoor, op een gegeven moment komt de papegaai weer aanlopen: "Ik ben Daan, en ik kan neuken als een haan, ik ben Daan, en ik kan neuken als een haan…" De papegaai loopt de boer voorbij. "…ik ben Daan, en ik kan neuken als een haan…" Dan loopt de papegaai BIJNA tegen de elektriciteitsdraad BUKT eronder door, ziet hierbij echter de draad waar de 220 volt op staat over het hoofd welke hem ,vol in de edele delen treft en roept vervolgens uit : "brrrrrrrrr wat ben ik weer 'n verdomd geile bliksem vanavond, hê, Ja toch niet dan ? De boer denkt hier even over na en gaat vervolgens bedaard naar/ binnen om zijn geweer te halen en schiet Daan pief paf poef door zijn hersenpan
en besluit een grafschrift voor hem te maken omdat hij zijn levenslust toch wel een beetje waardeerde werd het als volgt:
Hier ligt DAAN
Hij kon inderdaad neuken als een haan,
maar helaas aan alles komt een keer een end
het was mijn kogel die hem heeft geveld
of ALTERNATIEF 1 het was tevens zijn droeve lot
want mijn kogel maakte hem mooi kapot
Waarop Daan kennelijk toch nog niet helemaal kastje 6 zijn ogen open doet om zachtjes iets te fluisteren. Ontroerd pakt de boer de mooie bijna dooie vogel op en houdt hem dichter bij zijn half dove oren
Waarop Daan zegt: "rot op mafkees je blokkeert m'n scoringskansen" en wijst vervolgens in de lucht waar gieren zich verzameld hebben in afwachting van het feestmaal en fluistert "kijk dan daar, DAARZO GEILE CHICKIES…"
ok toegegeven het is een oude grap en welbeschouwd niet (erg) essentieel voor dit verhaal, echter ik zou Fransjo niet zijn als ik er er toch niet op de een of andere manier een ziekelijke draai en o zo kenmerkend voor mijn toegegeven cynische (doch nooit zwartgallig) kijk op het leven en alles wat daarin rondkruipt, zwemt vliegt en… '

Enfin u begrijpt me wel u bent ook al wel wat gewend op dat gebied dacht ik zo en gelet op het feit dat het a) niets toevoegt en b) op het andere gegeven dat ik net uitgebreid heb getafeld laat ik dat dan maar veiligheidshalve achterwege en ga nu door met de kern van mijn verhaal ofwel de theorie van alles…'
Natuurlijk weet u mijn zo innig geliefde lezer dezes dat ik immers niet op dat vlak onderlegd ben of zelfs maar een half voltooide opleiding heb in de schone wetenschap des naturen ofwel de kwantummechanica…

Maar het is zeker niet zo dat alleen arbeid ons vrijmaakt om maar eens een misplaatste dwarsstraat te noemen.

Neen, het is daarom juist dat ik als vrije geest, en dat pakt niemand me af, en niet gehinderd door de ballast van kennis op dat complexe gebied mogelijk een tipje van de sluier durf op te lichten om vervolgens met u samen te genieten van het fraaie uitzicht dat ons geboden wordt…
Immers het is mij een voorrecht om u te laten delen in de fantasie die ik ongebreideld durf los te laten in het vertrouwen, nee, de wetenschap dat "Alles sal reg kom" een citaat van Paul Krüger dat hoewel enigszins uit zijn verband (want een totaal andere context) toch niet al te vreemd op u overkomt, hoop ik dan toch wel…
Maar dan nu, zonder enig voorbehoud; De Theorie van Alles

Oei dat valt nog vies tegen.

"Ja, zeg, als het makkelijk was dan deed iedereen het wel" hoor ik mijn vader nog zeggen; ALS ik in een zeldzame bui van zelfmedelijden was aanbeland… EN DAARmee sloeg hij de spijker op de kop. De spijker dus en niet Ondergetekende voor de duidelijkheid. Mij heeft hij nooit (lichamelijk) mishandeld en trouwens geen van ons. Dus wat dat betreft was het een ideale vader. Ook op het financieel vlak kun je gerust stellen dat het ons nooit maar aan iets heeft ontbroken, integendeel zelfs, kan ik, nu ik zelf al weer zo'n 30 jaar de rol van vader (met gepaste trots) vervul, met onverholen bewondering vast stellen, want hoe die "Ouwe " dat ook deed, maar echt alles wat ons hartje begeerde werd gekocht en niets op afbetaling natuurlijk want daar had hij de schurft aan.

Toch zal de oplettende lezer het niet zijn ontgaan dat ik het kennelijk nodig vond om het voorbehoud te maken (tussen haakjes verstopt dat dan weer wel, haha} dat mijn vader klaarblijkelijk niet zo een mening was toegedaan als pak hem beet Multatuli (Nederlandse auteur van o.a. Max Havelaar en onder meer verantwoordelijk is voor de discutabele uitspraak van roede sparende ouders die hun kinderen wel moeten haten
(Hahaha ik vind het altijd weer wonderbaarlijk hoe ik er soms in slaag om een opvoedkundig advies als: "Die zijn kind lief heeft spaart de roede niet", wat ongetwijfeld goedbedoeld en waar was in die tijdsgeest dan, om dan compleet te verdraaien tot "en dus Kinderhaters") hetgeen ongetwijfeld verklaard kan worden uit het feit dat hij zelf ook niet bepaald een onbezorgde jeugd schijnt te hebben gehad, hetgeen in mijn ogen nog geen excuus is om dat ook door te geven aan een volgende generie, maar goed dat volkomen en eenduidig terzijde.
OK, NOG HEEL EVEN OVER MIJN Vader dan en u weet het hoe ik daar over denk he "Over de doden niets dan GOEDS, dus daar ben ik dan mooi tussenuit geknepen (of toch niet? Mompelt iets half binnesmonds over dat sommige zaken nu eenmaal bij het leven horen en niet alles publiekelijk besproken hoeft te worden)
NU dan? Komt dan nu eindelijk het beloofde zoet? NEEN, bulder ik schamper lachend om zoveel al of niet geveinsde onnozelheid…. Eerst krijgen we nog het zure gevo;el dat iedere rechtgeaarde Nederlander zal herkennen nadat de derde dinsdag in oktober weer gepasseerd is tot de bittere conclusie komende dat het ons Beloofde zoet ons weer eens door de collectieve neus geboord is als ware het een piercing van bedenkelijke kwaliteit door een overduidelijk zo dronken als een Maleier …ok en nu stop ik even,,,
eh, nee, dat is niet omdat de emotie mij te veel geworden is hoor en OOK NIET OMDAT IK TE MOE zou ZIJN OF God betert geen inspiratie meer zou hebben. Nee, nee Driewerf Nee (want dat maakt meer indruk, toch ?) Het komt een enkele keer voor dat zelfs ik ook niets meer heb toe te voegen of anderzins te debiteren heb dus'… tja op het gevaar af voor"GEWOON"versleten te worden… [EVEN PAUZE]
EN weer door; jazeker want ook de schoorsteen van de VanderLOOtjes moet blijven roken en anders heeft onze aspirant uitgever straks niets om uit te geven hetgeen onweerlegbare gevolgen heeft voor de microcosmos, waarvan ik net als u overigens, een miniscuul doch essentieel onderdeel van blijk te zijn, zo zal later aan het licht komen.
Maar NU dan Toch eindelijk dan Mijn Theorie van ALLES
Ja lieve lezer het staat er toch echt…ZOU het dan toch echt ? Of krijgen we toch weer een clifhanger of andere goedkope truc voor click bait ?
PADAMMMMMM TsssssJJJssssjjjjssssssssssssssssssssssssssssssss<DRUM ROLL>>
UITGANGSPUNT1) Het leven is cyclisch en niet zoals vaak (TE) simplistisch weergegeven wordt als een filmsstrip met een begin en een einde.
Voorbeelden hiervan zijn: 'glitches' in het script waaronder maar niet beperkt tot zaken die niet kunnen, (maar toch wel degelijk gebeuren)
UitGANGSPUNT (2): OUDERE mannen bloeien op zodra er jongere vrouwen ten tonele verschijnen dit ben ik half serieus half gekscherend het Daantjes effect gaan noemen, inderdaad met een speelse verwijzing naar de daarstraks gedebiteerde grol en het bekende haantjes gedrag van onze macho soortgenoten…
Nu zult u zeggen hallo daar FRANSJO waar is het empirische bewijs
WELNU daar kom ik zodirect op terug. Een voorbeeld van hetgeen mij dus regelmatig gebeurd is dit… Onderstaande schermafdruk van iets wat nog niet gebeurd is en even later dus wel…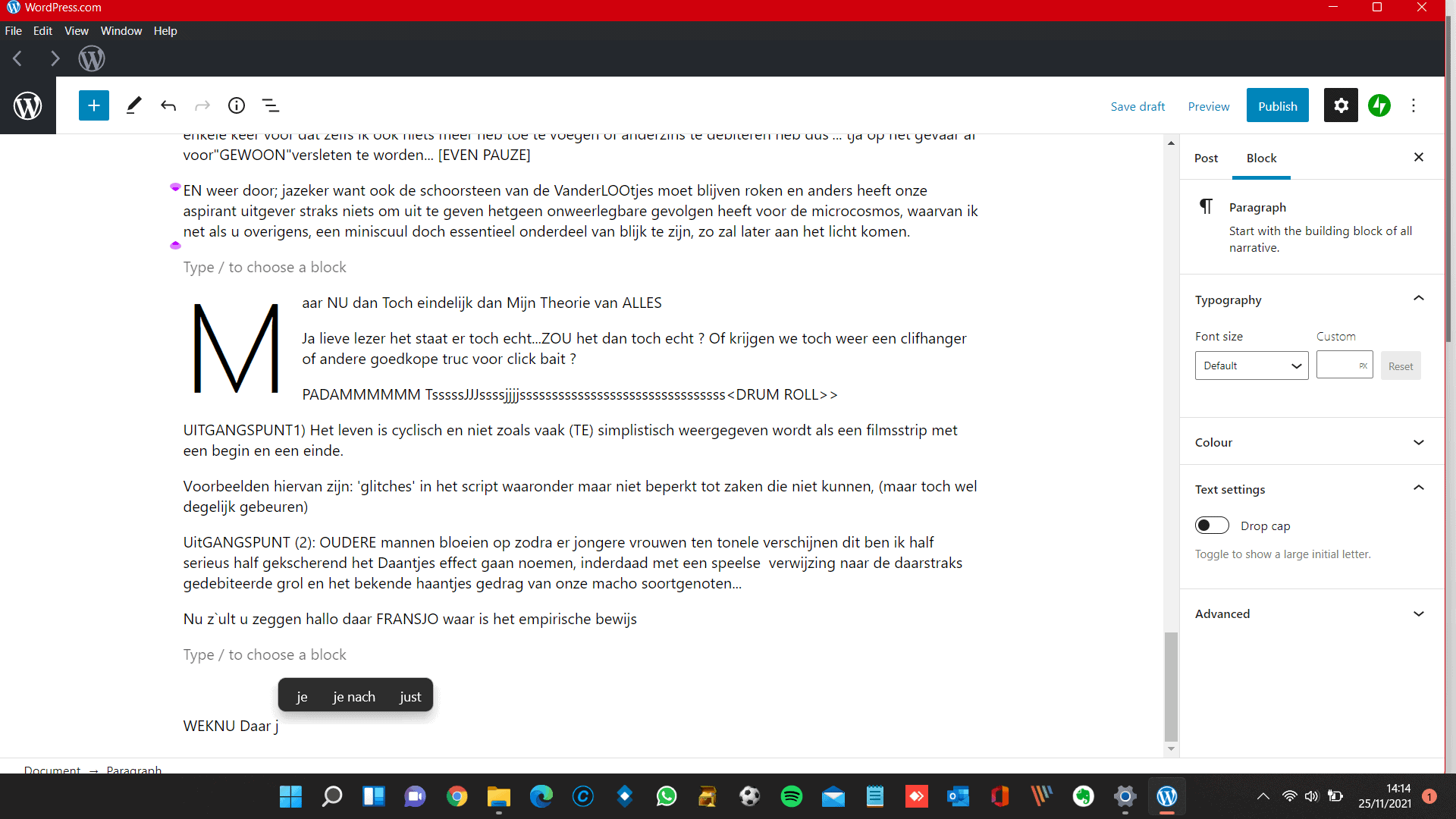 Krankzinnig ? MOGELIJK maar het kan nog gekker… ZO heb ik de volgende ingrediënten voor een formule; men neme naasr een sterk ontwikkelde verbeeldingskracht, ook een welhaast bovenzintuiglijk waarnemingsvermogen en koppel dit alles aan een niet te meten intelligentie gevoed door een buitenaards aandoende intuïtie en voilà, we hebben er weer een … Alleen is de mal van het origineel vernietigd….Jammer het had zo leuk kunnen zijn, nietwaar?
Maar nu ook weer terug naar het toch wel intrigerende onderwerp; even puttend uit mijn tamelijk gefragmenteerde geheugen, kom ik met het volgende naar ik hoop aansprekende voorbeeld:
…
En toen bleek de auteur ten enenmale zich vergist te hebben in de alom aanwezige goedheid van het universum hetgeen onverbiddelijk werd afgestraft met een disk i/o error wat in leken termen zoveel betekent als eh jammer joh had je nou maar een extra back-up gemaakt hé?
Alsof U dat ook maar een zier kan schelen he wees eerlijk al was het maar voor een keer in je leven ; HAD U NU ECHT VERWACHT HIER IN DE UITHOEK VAN HET UNIVERSUM OP DEZE PAGINA VAN DEZE OBSCURE WEB SITE EEN WERKELIJK VERNIEUWENDE GEDACHTE AAN TE TREFFEN LAAT STAAN EEN THEORIE VAN ALLES HA, HA, HA,