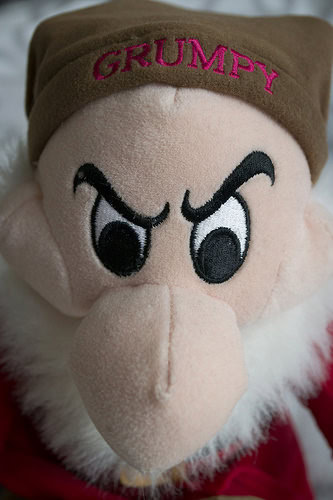 Maak kennis met de SNARF's De wat? vraag je nu en krabt je hoofd of kin, noten of iets anders dat enigszins lijkt op die lichaamsdelen, afhankelijk van je geslacht (DUH), de toestand waarin je brein verkeert en je goede manieren natuurlijk…

Voor degenen die nog nooit het genoegen had een van hen te ontmoeten: een SNARF is een:
Soms slecht gehumeurd, maar N OOIT Agressieve R OYALLY F ECKED persoon of SMURF lookalike…, maar laat me hier heel duidelijk zijn over dat "toeval": het is waarschijnlijk de enige keer dat ik publiekelijk zal toegeven dat er een lichte gelijkenis is tussen deze kleine "FECKERS" (HA Als ze 't maar konden hè ) en mijn voornaam (maar dan omgedraaid) Naaaah nou niet zeggen dat dit alleen om auteursrechtelijke redenen gebeurt mijn vrienden want dat is dus echt niet zo.

Oké, te oordelen naar al die verbaasde blikken, kan ik jullie het beste kort uitleggen wat ik erover te zeggen heb en hoe zou dat beter kunnen dan door een van die fantastische citaten te gebruiken van weer een andere film. Je hebt vast en zeker DONNIE DARKO gezien waar hij het volgende opmerkt [zakelijk, best goed en to the point] over het altijd interessante onderwerp of de Smurfen zich al dan niet (kunnen) reproduceren:
"Allereerst heeft Grote Smurf geen Smurfin gemaakt. Gargamel deed het. Ze werd gestuurd als de kwaadaardige spion van Gargamel met de bedoeling het Smurfendorp te vernietigen. Maar de overweldigende goedheid van de Smurf-manier van leven veranderde haar. En wat het hele gangbang-scenario betreft – het kan gewoon niet gebeuren. Smurfen zijn aseksueel. Ze hebben zelfs geen voortplantingsorganen onder die kleine witte broek. Dat is zo onlogisch, weet je, aan het zijn van een smurf. Wat heeft het voor zin om te leven… als je geen lul hebt? "

DONNY DARKO

En met referte aan die laatste verklaring, sluit ik gewoon mijn aktetas, mijn beste lezer, want het vat 't echt allemaal samen, heel mooi ook, zou ik graag nog willen willen toevoegen: Ik bedoel echt, wat zou de motivatie of reden kunnen zijn voor een kerel om zelfs maar te willen om door te gaan of te doen alsof je nog leeft… als je geen lul hebt…
OH, MIJN GAWD HET MOET ZUIGEN OM EEN SMURF TE ZIJN, Ja? Ja TOCH? LMAO
Oké DAN, en vooral ZONDER VEEL GEDOE presenteer ik jullie:
EEN KLEINE selectie van een paar van die kleine klootzakken die volgens mij zouden kunnen worden gezien als archetypen van mijn eigen karakter en nee dat is niet in alle gevallen iets om trots op te zijn…😫 :
DAAR drink Ik op Snarf 'n kerel met van dieongetwijfeld, ruig klinkende Schotse roots. Maakt bijna nooit ruzie, maar dringt eerder aan dat dit of dat zou kunnen, nee zou moeten, worden opgelost met een drankje (of twee, drie…) Dát is een gozer, naar mijn hart zoals hij niet (veel) klaagt over zijn LOT, maar 't "GEWOON" neemt als een volwassene – op de kin -… PROBLEEM met hem is natuurlijk dat zijn ego al die ONGEDEKTE cheques blijft schrijven en zijn lichaam kan dat tempo niet volhouden. Ook helpt het feit dat hij nooit EENS 'N STAPJE ACHTERUIT lijkt te willen doen, niet veel, hè?
Nou, nooit? Uitdaging geaccepteerd! Je hoort het hem gewoon roepen hè?
Eeeennn, ik rust even uit, eh…staak de verdediging edelachtbare
De "romantische" SNARF is eigenlijk helegaar niet zo romantisch. Het is meer een variant op de vorige ende hierna volgende SNARF. Zolang ie krijgt wat hij denkt dat hij meer nodig heeft dan wat dan ook in de wereld, is 't een prima gozer, maar ja maat houden he dat is een ander verhaal… Wist je bijvoorbeeld dat hij zijn eenvoudige genoegens zocht in goedkope / smerige bars met dito vrouwen en op zich is dat echt relatief onschadelijk vermaak, zolang hij zijn voldoening kan krijgen, als je weet wat ik bedoel. Dat is natuurlijk alleen maar de schuld van een beetje te veel van deze voorgeschreven medicijnen (DOPAMINE Red.) om hem te helpen om te gaan met zijn ZvP. Ja, dat moet het zijn: allemaal de schuld van zijn medicijnen, want hij was nooit zo. Een waarschuwend woord. Want je weet toch: "een gewaarschuwd mens m/v telt voor twee", immers. Probeer dus nooit je veters te strikken of spullen van de vloer rond die "fecker" op te rapen, want je zou van een koude kermis kunnen thuiskomen… Precies het is niet nodig om de lege plekken in te vullen, toch, ik bedoel, waarom zou je het voor de hand liggende noemen, hè?

De "Verslaafd aan alles, zolang het hem maar een BUZZ geeft" SNARF zou ook mijn soort kerel kunnen zijn, ware het niet dat het leven echt te snel gaat met hem in de buurt… Je kent waarschijnlijk wel het gezegde aangaande het branden van de kaars aan twee kanten hè Nou dan zal deze figuur proberen om je tot een weddenschap te verleiden door je te willen bewijzen dat het misschien nog leuker is om De kaars eens fijn MIDDENIN aan te steken hè OH ja, en WANNEER gaat die man ooit slapen, GEEZ…

En dan hebben we dit echt fraaie werkstuk. Laten we hem voorlopig de Belerende SNARF noemen bij gebrek aan een betere beschrijving; we weten allemaal wat we ermee bedoelen, nietwaar? Wacht, die jonge knaap, ja jij daar precies op de achterste rij. Wat vraag je? Oh, je wilt dat ik uitweid (een beetje meer, dan toch hè) Nou, pak een stoel en neem iets te drinken, en laten we dit personage eens fijn uitpluizen, want daar moeten we ons kleine verhaal beginnen zoals hij is een beetje "een onderste trede", snap je wel?

Oké, oké de Belerende SNARF dus, hier is ie dan, hè [Illustratie volgt binnenkort] Meh, waarom eigenlijk, want er is niet veel om naar te kijken, zeg nou zelf, hè , Nou, laat me je verzekeren dat het gezegde: Er is meer dan je met je ogen zou kunnen zien hier opgeld doet, wat een soort van röntgen kijken impliceert zou je denken dan, toch. Nou ik heb geen idee hoe dat moet 'voelen' natuurlijk, want laten we eerlijk zijn, JONGENS Ik ben nog steeds een behoorlijk knappe jongen, MET EEN ALTIJD (behalve bij een paar situaties) ZONNIGE GEAARDHEID ja, zelfs als ik het zelf moet zeggen, hè klinkt dat een tikkeltje arrogant.
Maar niet de belerende SNARF, nee, mevrouw die valt buiten de boot…
Ten eerste heeft hij die echt aanstootgevende bril, die als ik van een ander geslacht zou zijn een grote afknapper zou zijn (en misschien zelfs een passie killer), maar aangezien ik een roodbloedige man ben, moet ik toegeven dat ik niet veel over dat specifieke onderwerp weet, dus ja, het is mogelijk dat ik het daar mis heb… Dus ga door, en dit zou je startschot kunnen zijn voor al die fijne dames onder ons, dus laten we het horen in de reacties alsjeblieft of als je zo'n openbare reactie niets lijkt, dan zou ik me kunnen voorstellen dat je zou willen overwegen om me op een nog meer geanonimiseerde manier bij te praten, want dat is ook een optie…

Ten tweede moet het de reden zijn waarom hij zijn naam kreeg, want hij vertelt altijd "dingen", die je allang wist weet je, en nou, ik wil niet eens in de verste verte op hem lijken, dus ik neem aan dat je weet wat. Ik bedoel? Ja, dat is wat ik OOK dacht…
Verder ; een van zijn meer vervelende eigenschappen zou het feit kunnen zijn dat hij pretendeert nogal wat te weten en dat wil aantonen door te laten zien hoe erudiet hij is…
Natuurlijk, met de komst van internet en toegegeven het is best handig, zouden online encyclopedieën als Wikipedia je alle benodigde tools moeten bieden, waarvan ik denk dat het geen al te grote uitdaging voor je vormt om goed geïnformeerd te worden over welk onderwerp dan ook dat van belang is en zou je toch in staat moeten zijn om die verdomde belerende SNARF op zijn eigen terrein te verslaan, als je me kunt volgen, hè? Oeps nou, dat klonk toch al best een beetje belerend hè, wat voor mij reden is om me af te vragen of het niet besmettelijk is… Argh nee de gedachte alleen al hè… YIKES…
Welnu, daarmee is de toon voor dit onderwerp dat jullie interesseert, SNARFS gezet, en voor het geval jullie misschien willen bijdragen aan deze verhandeling, toelichting of betoog, zelfs, door nog wat voorbeelden van dit fenomeen te noemen. Ik heb dit formulier voor je gemaakt. Vul het alstublieft in, en vergeet niet je e-mailadres te checken, hè?